As we all settle back into our routines and Winter terms begin in earnest, I figured it was a good time to revisit the anti-racism work that (hopefully) began in many departments and institutions last year.
If you made meaningful progress toward creating an inclusive, anti-racist environment for your BIPOC students and colleagues, that's great. But the work isn't done.
Anti-racism work isn't a box you can just check before getting on with your life. Racism isn't something that can be eliminated overnight, or with a change in administration (Bye, Don!). So, if you're in the habit of making New Year's resolutions, here are a few things that you can do this year to continue your anti-racism work.
Diversify your syllabi…and your department events
Last year I was a part of creating the Black Centered Resources for Ancient Mediterranean Studies, a super important crowdsourced Google document highlighting the work of Black scholars studying the ancient world.
It's a resource that instructors can reference, and a place to go when you don't know where to start when trying to diversifying your syllabi. I don't how many people have utilized it, but I hope that more people do.
Diversifying your syllabus is something that can be done right now. Despite Winter term already being underway, it's important to remember that no syllabus should be inflexible.
A similar and equally important point is being more conscious about the scholars we invite to give lectures at our department events. Take note of any trends that have plagued your lineup in the past and adjust accordingly. If you organize these events and don't know who to reach out to, ask around!
Something that came up in the "Building Networks of Inclusion" workshop at the AIA/SCS annual meeting was this way students can help with diversifying department events: if you want to meet someone, ask your department to invite them to give a talk.
For inspiration, check out this amazing lecture series organized by the University of Michigan Museum of Anthropological Archaeology (UMMAA) featuring Black archaeologists. The first lecture by Dr. Helina Woldekiros will take place Friday January 22nd at 1pm.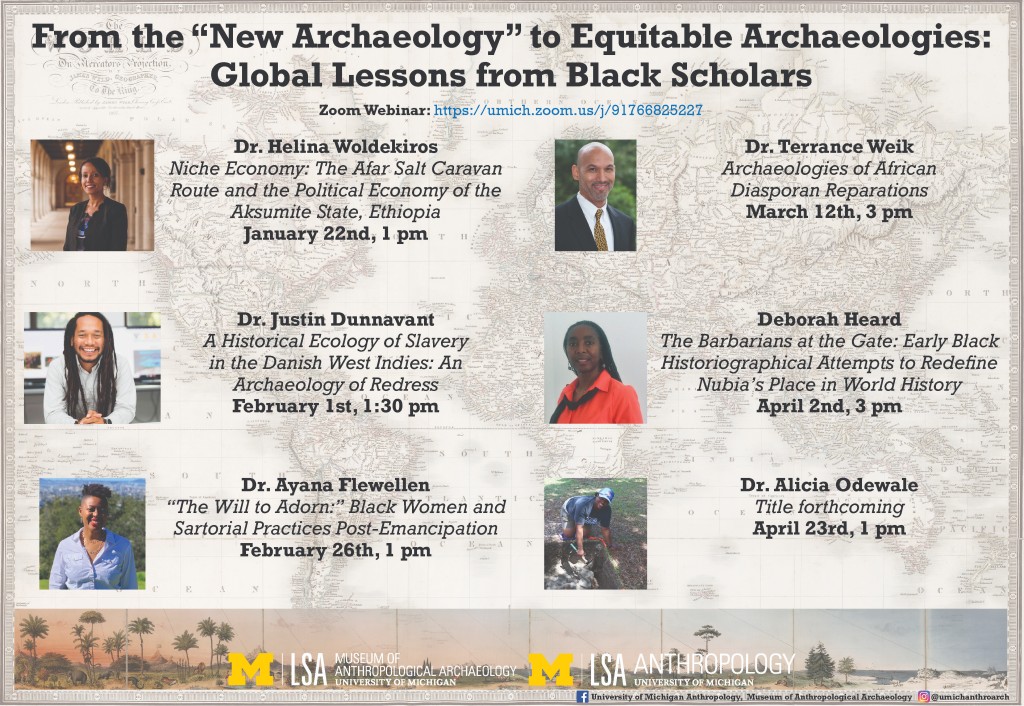 Make space in your classrooms for difficult moments and difficult topics
Pedagogical approaches to discussing difficult topics in the Classics classroom have been developing for years, but in light of the increasingly more traumatizing times we live in, it's even more important now than ever to consciously make space in your classrooms for difficult moments that might arise outside of the classroom, too.
Classroom 'temperature checks' seem to be something that is more common in K-12 classrooms than in higher ed, but this is something worth incorporating into your courses. We should be offering space for students to share how they're feeling at particularly stressful moments if they need or want to.
Even if students have nothing to share, don't just ignore current events. Acknowledge them directly and recognize that your students may not all be performing at their best that day.
Make and hold space for your students. Lower your expectations. Allow them to feel supported, especially in a time when we can all feel so isolated behind our screens.
Know when to ask for help with your anti-racism work
You may have written the book on race and ethnicity in the ancient world, but that doesn't place sole responsibility for educating your students and colleagues about anti-racism on your shoulders. If setting up anti-racism training or workshops seems out of your depth, don't just push it off for someone else to deal with. Ask for help.
This past Fall, the Collaborative Archaeology Workgroup at the University of Michigan enlisted the help of our Center for Learning and Teaching in facilitating a conversation about anti-racist pedagogy for graduate student instructors. A similar workshop is being organized by my colleague, Machal Gradoz, for our entire Classics department this Winter.
Similarly, if you feel out of your depth discussing issues of race or ethnicity in your classroom, there are plenty of people out there that have been doing that work and that would (probably) be happy to give a guest talk to your class. It never hurts to ask.
But remember to compensate them for their labor in whatever way you can!
Recognize anti-racism work as work
Speaking of compensation, this Instagram post by Marie Beecham sums up the issue pretty well.
Ad-hoc committees on diversity were a good first step, but there has been plenty of discussion around the effectiveness of such committees over the last year.
Seriously consider creating paid positions and give the people in those positions the authority to make impactful and lasting changes. As Marie Beecham asserts in her last slide, "Antiracism work is work. Put it in the budget, not just on the calendar for thirty minutes every other week, if you want to get things done."
We are past the time for statements of solidarity, community discussions of foundational readings, and crowdsourcing ideas. Making donations to causes and organizations dedicated to anti-racism isn't enough. It's time we start supporting the activists – the people dedicated to making real change – in our own departments.
Acknowledge how you've been complicit in perpetuating an unwelcoming environment for BIPOC
This should've been the first step for everyone months ago. However, there are still some people who have been resistant to recognizing their role in creating a toxic environment for BIPOC in Classics and related fields. No one is perfect. It's okay to admit that you've made mistakes and that you're willing to change.
Take a moment to reflect on your attitudes, your behaviors, your publications, your courses, and ask yourself:
How has your work amplified or silenced BIPOC voices?
Are there BIPOC doing research that is similar or related to your own? How have you engaged with those scholars?
What work do you still need to do to do better by your BIPOC students and colleagues?
Everyone is capable of change. The first step is to admit that you were wrong and that you're open to learning from your mistakes. Actively resisting that acknowledgement only puts you in a worse light.